Lets help out a friend of mine,
Jessica Ace
, who is supporting a March of Dimes walk locally. We have until May 5th, 2013 in Clarion, PA. Let's show
Jessica
and The Miracle Workers some spirit and support them with donations. You can enter any amount, no amount is too small to help the team reach their goal.
Why March for Babies??
When you walk in March for Babies, you give hope to the more than half a million babies born too soon each year. The money you raise supports programs in your community that help moms have healthy, full-term pregnancies. And it funds research to find answers to the problems that threaten our babies. We've been walking since 1970 and have raised an incredible $2 billion to benefit all babies.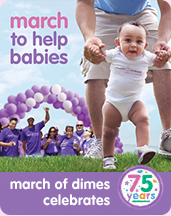 Celebrating 75 Years!
This year, more than 7 million people will join their family, friends and colleagues in 900 communities across the nation. Our volunteers and staff will encourage and support you in your efforts to raise awareness and funds. No matter if this is your first year or your 25th, you can expect the event to be fun, compelling and rewarding.
Don't forget to look for more local teams and events that you can also donate to. I will be donating to this event! Also, watch for more charity and organization work Z's Place supports, as the CLICK FOR A MAMMOGRAM on the top of my right side bar, Toys For Tots, American Heart Association, United Spinal, and many many more!
**Disclosure: This post is for informational purposes only. No compensation was received for this post. All opinions are my own.