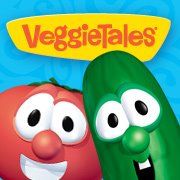 Just in time for Easter, VeggieTales is releasing THE LITTLE HOUSE THAT STOOD, an all-new VeggieTales story premiering on DVD and available at Walmart on Tuesday, March 5, 2013 that you and you family is sure to love. THE LITTLE HOUSE THAT STOOD is not only a delightfully funny new story but one that also teaches children valuable life lessons.

THE LITTLE HOUSE THAT STOOD reunites fans with popular VeggieTales characters including:
Larry the Cucumber – Goofy, green and always a little bit silly!
Bob The Tomato – He's the practical one who likes to make sure there's a lesson to learn, but always gets pulled into Larry's silliness!
Jr. Asparagus – This little 6-year-old Veggie is full of fun and reminds us that little guys can do big things too!
Plus – The French Peas, Madame Blueberry, AND MORE!
THE LITTLE HOUSE THAT STOOD parodies two popular nursery rhymes - The Three Little Pigs and Humpty Dumpty - to help impart valuable life lessons. The Three Little Pigs meet the Wise and Foolish builders and learn that by making good choices, they can build a house that will stand against any storm! In the "The Good Egg of Gooseville" we find out what happens BEFORE Humpty cracks, in a good neighbor story where we learn why it's a nice to lend a little hand to those in need.
Check out the trailer/preview
HERE
.
As a parent, you know it's important to impart good values to your children as early as possible. In today's society, that's not always easy. But, with VeggieTales, you can be assured that children are not only exposed to nice wholesome stories, but valuable lessons that will last a lifetime.
**Disclosure: This post is for informational purposes only. No compensation was received for this post. All opinions are my own.