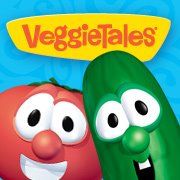 THE LITTLE HOUSE THAT STOOD reunites fans with popular VeggieTales characters including:
Larry the Cucumber – Goofy, green and always a little bit silly!
Bob The Tomato – He's the practical one who likes to make sure there's a lesson to learn, but always gets pulled into Larry's silliness!
Jr. Asparagus – This little 6-year-old Veggie is full of fun and reminds us that little guys can do big things too!
Plus – The French Peas, Madame Blueberry, AND MORE!
THE LITTLE HOUSE THAT STOOD parodies two popular nursery rhymes - The Three Little Pigs and Humpty Dumpty - to help impart valuable life lessons. The Three Little Pigs meet the Wise and Foolish builders and learn that by making good choices, they can build a house that will stand against any storm! In the "The Good Egg of Gooseville" we find out what happens BEFORE Humpty cracks, in a good neighbor story where we learn why it's a nice to lend a little hand to those in need.
Check out the trailer/preview
HERE
.
As a parent, you know it's important to impart good values to your children as early as possible. In today's society, that's not always easy. But, with VeggieTales, you can be assured that children are not only exposed to nice wholesome stories, but valuable lessons that will last a lifetime.
Click the picture below to order the DVD for $14.99!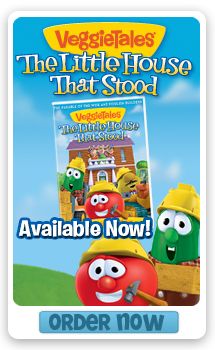 My review:
I absolutely loved this movie. My daughter and I watched it together Friday after we received it, and it was a hit. My son and foster girl loved it as well. I thought the stories were wonderful and they gave a nice message through out for the kids to grasp. It started out with the 3 Builders - kind of like the 3 Little Pigs - but emphasizing on having a good foundation, making the right decision to follow instructions and do things right to the end, no matter how long it takes. This also took many Mother Goose Rhymes and mixed them together in a way that kids could understand, when to do the right thing. This story included, Humpty Dumpty, Goldie Locks and the 3 Bears, Little Bo Peep, and many more. I thought the rhymes made great sense to the kids, and gave a great new look on the meaning of helping each other and not being selfish. These are the kind of shows I love having the kids watch, not just learning things for school, but morals, integrity, and being helpful.
There are also some bonus features included on the DVD. My favorite is the cute sing along song "Happy Tooth Day!".
All bonus features include:

Studio Commentary
Behind the Scenes with Big Idea
History of Mother Goose
Studio Store
"Happy Tooth Day" Sing-Along
"Solid Stuff" Sing-Along
"Lend A Little Hand" Sing-Along
Discussion Guide
Friends of VeggieTales
English & Spanish Subtitles
5.1 Surround Sound

One lucky reader will win a VeggieTales - The Little House That Stood DVD! Please use the Rafflecopter below.
a Rafflecopter giveaway
**Disclosure: I received the above mentioned product for review and giveaway purposes. No other compensation was received for this post. All opinions are my own.