**Disclosure: I received a free product for helping to spread the word about this contest. All opinions are my own.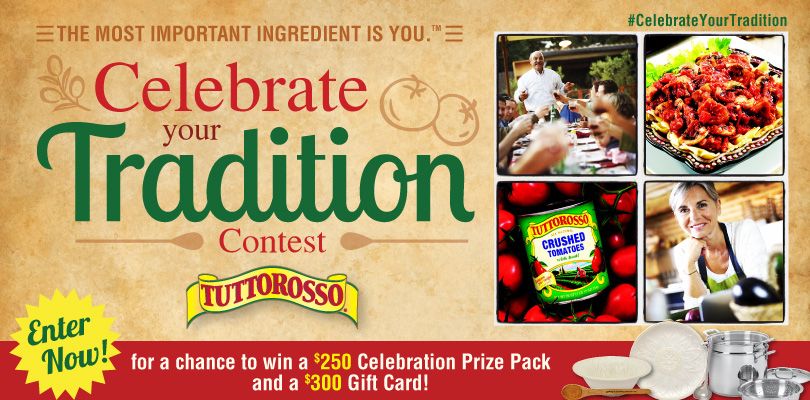 Everyone has a special family meal tradition. Whether it's Sunday Dinner at Grandma's or a special milestone celebration, there is always something to look forward to…especially when the meal is made with Tuttorosso tomatoes! The 85-year-old tomato brand is hosting a Facebook promotion and is asking home cooks to post about their inspiration in cooking. Who (or what) inspired you to start cooking?
To celebrate its heritage dating back to 1929, people are being encouraged to post their cooking inspiration stories on Tuttorosso's Facebook page —
http://www.facebook.com/tuttorossotomato
— starting on APRIL 16 and ending MAY 7.
Each entrant will receive a meal-occasion themed digital recipe flip-book with a $1.00/4 coupon, recipes, and cooking tips.
All entrants have to do is…
1. Like the Tuttorosso's Facebook page, and
2. Post who has been an inspiration in your family cooking tradition and how would you like to celebrate in their honor.
The winner will receive a $250 prize pack that includes a serving plate, sauce ladle, pasta pot set and heirloom wooden spoon, plus $300 to a dinner celebration of the winner's choosing.
Enter the contest
HERE
!