I am proud to bring this review and amazing giveaway to you from
Lysol®
! I received 2 products to review, Lysol® Disinfecting Wipes: Dual Action and Lysol® Healthy Touch® No-Touch Hand Soap System. Now, I will say I LOVE LYSOL®. It is one brand I will not stray from when it comes to cleaning things in my home and for my children. I used to be a Med-School student, which I was trying to ultimately become a Neurosurgeon. You learn so many nasty little facts about germs and the effect they can have on the body. Plus when I worked in the operating room, I probably washed and scrubbed my hands and arms about 100 times a day. I have always had the hand washing down, but the I must spray everything and bleach the bath toys came after my son, Zachary. Honestly, if you look at my son's attendance record at school, he has not missed nearly as much as other children due to illness. It could be that he has a great immune system, however I like to think it is because I am Super LYSOL® Mom and disinfect everything. My kids are wonderful at washing their hands also, maybe because I am the truly anal mom who tells them after every sneeze, cough, or touching something icky to hit the sink and wash up. Our old soap pumps had a little music thing on them to let the kiddos know when they were done washing, when the music stops you can finish rinsing, and dry off. Of course, whatever was on their hands that needed washed off is now on that pump for the next time they touch it...I Lysol® that too (he he)!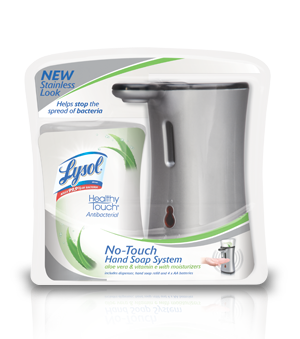 Now, there is this great new
Lysol® Healthy Touch® No-Touch Hand Soap System
! It reminds me of when I did work in the operating room of the motion censored soap dispensers, outside the rooms, I always joked about one taking home. I had heard that this was coming on the market, and I remember being ecstatic! I don't know if the hustle of shopping between the mad dash of people at Walmart made me forget to get one, or what, but I am so happy to have one now! The kids like washing their hands even more now because it just magically shoots out the soap, as my son says. The soap we received with the unit is the Aloe Vera & Vitamin E with Moisturizers. It just smells clean, and it doesn't not dry out your hands at all. One thing I really love about the unit, it the fact that the censor is under the spout where the soap comes out...therefore every time you are near it, it doesn't just start shooting soap everywhere, you actually have to put your hand in position to catch the soap for it to dispense. This is ingenious! The ones outside the operating room had the censor on the front and we were forever cleaning up wasted soap off the floor. If you walked to close to it or put your hand in front of it accidentally getting your paper towels...soap everywhere.
The hand soap scents available are:
*Refreshing Grapefruit Essence™ (Refill only)
*Soothing Cucumber Splash™
*Aloe Vera & Vitamin E with Moisturizers
*Antibacterial Total Care
You can choose White or Stainless Look!
A great award attributed to this system is the Winner - Personal Hygiene Category. Survey of over 60,000 consumers by TNS.
Please visit
here
for great hand washing tips! You can find a great poster
here
(In PDF Format) that I hung in my bathroom for the kids. It has great illustrations and a funny little story I read to the kids. On this
page
there is a ton of great information for school age children, and with school being not far off, you can see some routines that may help keep your child even more germ savvy!
The
Lysol® Disinfecting Wipes: Dual Action
, are just as amazing! These wipes are great for after cooking, when you have all the little splatters on the stove, the kiddos spill something, or when meat leaks on the counter, YUCK! You can use one side for scrubbing and the other for wiping up messes that do not need scrubbing. I love the awesome germ killing power in these little scrubbing-wiping wipes!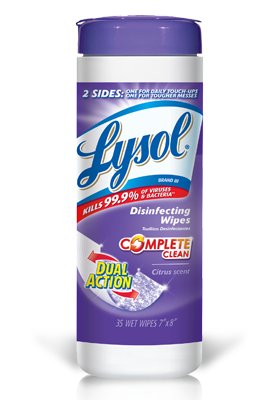 Facts:
*Kills 99.9% of Viruses and Bacteria*
*When used as directed.
*Kills Cold and Flu Viruses including Pandemic 2009 H1N1 Influenza A
*One side with built in Fibers for Tough Messes or a Side for Touch-up cleaning
* && They are Available in Citrus and Crisp Linen® Scent!
There is a ton of information on the Lysol® Website! You can find great Before and After School Hygiene Habits
here
. Cleaning and disinfecting tips can be found on this
page
.
Here
is a great list of kitchen cleaning tips! My favorite, Bathroom cleaning tips are
here
. You are able to search the site for anything you may need more information on.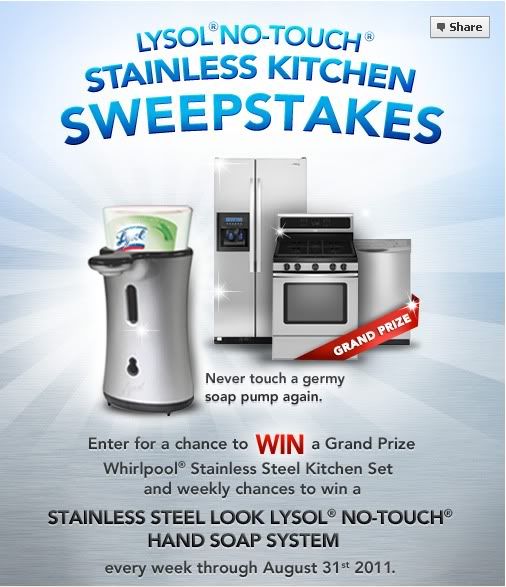 Lysol® is having a great sweepstakes on their
Facebook page
! The sweepstakes is called Lysol® No Touch® Stainless Kitchen Sweepstakes. You can enter every week until 8/31/11 for a chance at a grand prize of: a Whirlpool® kitchen set including: one (1) refrigerator, one (1) dishwasher and one (1) stove. ARV: $5,000. Winner will be able to choose from a selection of Whirlpool® stainless steel dishwashers, refrigerators and stoves totaling no more than $5,000. You can read the Official Details Rules
HERE
!

Lysol® has generously offered one lucky reader their own set of products, like the ones I received!
**Disclosure: I received the above mentioned products for review purposes. No other compensation was received. I received this opportunity through MomSelect.