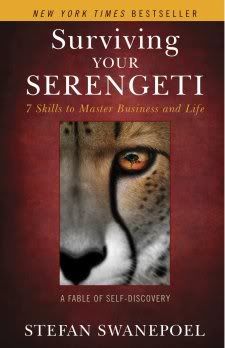 I really wanted to read this book, if not to compare how I already take on my challenges but to learn better ways to perceive and take on the matters in my life. I am very pleased with the way the the scenarios in the book mad me feel about my own struggles.
This book takes place in the African Serengeti Swanepoel lived. He details the safari of a couple in the Serengeti. They observe the animals and how they survive in the wild. They then take those skills and apply them to life and business. This book had great detail in the story of the matter, however I was a little confused at some of the points that were being made. Luckily there is a website just for the book
www.serengetibook.com
. You can read even more about the comparisons. You can also take a
quiz
to see which animal you are.
The animals are listed as:
THE STRATEGIC LION
THE ENTERPRISING CROCODILE
THE ENDURING WILDEBEEST
THE RISK-TAKING MONGOOSE
THE COMMUNICATING ELEPHANT
THE EFFICIENT CHEETAH
THE GRACEFUL GIRAFFE
I took the quiz and I am the enterprising crocodile. I was hoping for giraffe, because they are my favorite, but I am not so graceful I guess! I recommend this self-help book to those who just need a little pick me up or advice.
**Disclosure: I received a copy of Surviving Your Serengeti from Booksneeze.com for review purposes. No other compensation was received.