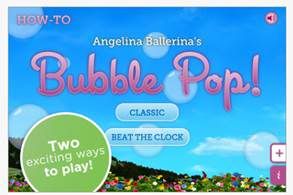 Ready! Set! Pop!
Angelina Ballerina's Bubble Pop! Game App for iPad®, iPhone®, and iPod touch® now available in the
iTunes App Store
around the world. The Angelina Ballerina's Bubble Pop! game app is an engaging interactive game featuring Angelina Ballerina™, everyone's favorite mouseling, with 3D animation, two modes of game play and captivating sound effects and music.
Players can help Angelina Ballerina gather flowers for her bouquet by popping the bubbles as they float from the sky. To earn points, players need to act fast and pop the bubbles before they fall in the garden. The game has two modes, timed and classic, so there are twice as many ways to enjoy the bubbly fun!
About Angelina Ballerina™
Angelina Ballerina, a beloved publishing property for close to three decades, is a little star with big dreams of becoming a prima ballerina. This feisty little mouse works hard to reach her goals and along the way, always learns from her mistakes. When little girls share in Angelina's experiences, they're inspired to go after their big dreams too. In addition to the critically acclaimed story books created by Katharine Holabird and Helen Craig, Angelina Ballerina dances her way into the hearts of young girls in the CG-animated series, Angelina Ballerina The Next Steps. For more information about Angelina Ballerina, please visit
www.angelinaballerina.com
or follow Angelina Ballerina on Facebook (
www.facebook.com/angelinaballerina
) and Twitter (
@ABLoveToDance
).
About Callaway Digital Arts
Callaway Digital Arts (CDA) publishes innovative children's and lifestyle applications for Apple's iPad, iPhone, and iPod Touch devices. Funded in August 2010 with an investment from Silicon Valley's Kleiner Perkins Caufield & Byers, we create meaningful digital experiences that transform the way families connect with media and with each other. With a grant from the Department of Education, CDA is also reinventing learning by creating a platform that builds reading and math skills for children ages two through eight. Our apps have reached the number-one spot in Books and have been featured as App of the Week and among Apple's Best Interactive Story Apps of 2010. For more information about CDA, visit
www.callaway.com
.
About HIT Entertainment
HIT Entertainment is one of the world's leading independent children's entertainment producers and rights-owners. HIT's portfolio includes properties, such as Thomas & Friends™, Barney™, Bob the Builder™, Fireman Sam™, Angelina Ballerina™, Mike the Knight™, Pingu™ and Rainbow Magic™. HIT represents Chapman Entertainment's Fifi and the Flowertots™ and Roary the Racing Car™ in North America, as well as Wallace & Gromit™, Shaun the Sheep™, Timmy Time™ and Aardman Classics from Aardman Animations. HIT also acts as representative for The Wiggles® in the UK. Launched in 1989, HIT's lines of business span television and video production, content distribution, publishing, consumer products licensing and live events and has operations in the UK, US, Canada, Hong Kong and Japan. HIT is a part-owner of US-based preschool channel, Sprout®. For more information, visit
www.hitentertainment.com
.
Buy It:
The Angelina Ballerina's Bubble Pop! game app is available for a special introductory price of $0.99 USD/£0.69 GBP from the App Store on iPad, iPhone or iPod touch at
www.itunes.com/appstore/
.

Win it!!
One lucky reader will win a code to get the app for free on their apple device!
**Disclosure: I received no products or compensation for this post.