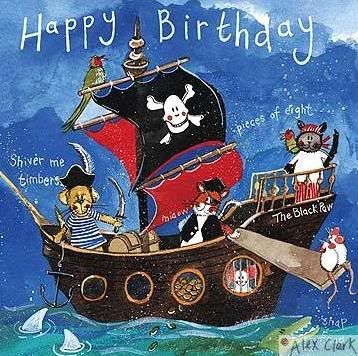 So today is Zachary's 6th birthday! He wanted to have Little Caesars pizza for dinner! I love crazy bread so it worked out great. We went out to Party City and bought all the Pirate touches to finish up for his party on Saturday 9/24/11. He is so super excited. I felt bad for his birthday we didn't really make anything like I had for Nevaeh's birthday. We all had so much fun doing those activities together. I have just been so busy running the kiddos around and getting them into their school routine that we just haven't had time to make items.
At any rate, Zach was so excited to get his Pirate Skull Pinata and all of his decorations. He had a blast at the party store until he spotted Freddie Kruger...it is going on Halloween so it was bound to happen. There were all sorts of scary things there he was kind of, not comfortable to say the least. Nevaeh loves that stuff, and Halloween is my favorite holiday, but to each his own, Zach does NOT like it at all. Anyways, I am glad I got to a computer to get this post out.
HAPPY BIRTHDAY ZACHARY!!!!