I have to say I am a stickler for dental care. So when I was asked if my family would take the "Oral Care Challenge", of course I said yes! We have pledged to Brush. floss, and rinse at least twice a day for 2 weeks! I know in our house holidays = baked goods/candies. Thus making the cavity fight even harder. I LOVE to bake and create candy treasures for my family and friends for the holiday season.
Here is the excellent KIT my family received to participate in the challenge.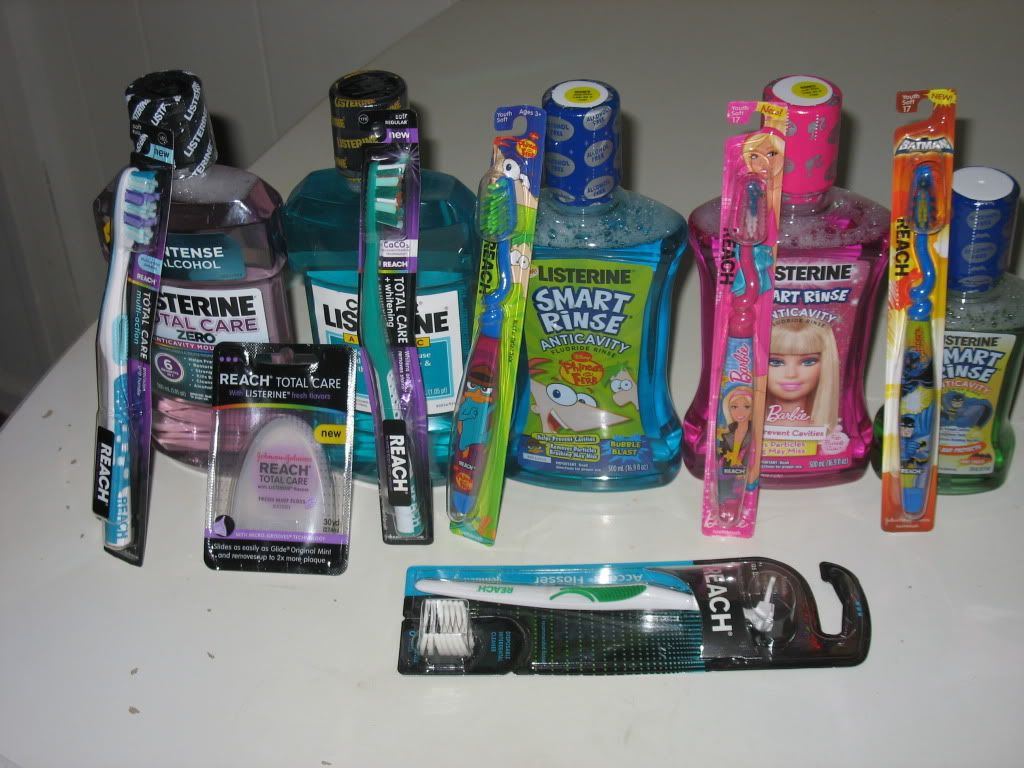 I will tell you a little known story about my family and our teeth. We have some bad teeth in my family. I am actually the only one with all my natural teeth (minus wisdoms), even my 22 year old brother is missing some teeth. When he was little he had to have all of his teeth pulled at Children's Hospital because of an iron deficiency that we all suffer from, thanks genetics! However, I have been a super stickler about brushing and flossing my whole life, because of our dental problems. Of course, my pregnancies were not so nice on my teeth. My son has some problems with his teeth, however, his dad didn't take care of his teeth when he was in his care, 3 whole days a week with no dental hygiene. My daughter has beautiful teeth! Thank goodness. She has a really bad underbite though, which for a while, hurt her jaw to open far enough for me to brush the top molars on the left side, hence she has had one cavity so far. I am super good at the kiddos brushing and flossing. My son is 6 but I still brush his teeth when he is done. My daughter is 3 but she already uses regular toothpaste and mouth wash. With our history, I have to be on top of the problems 24-7. My dad at age 56, just had a full mouth extraction and I am not looking forward to that! Hopefully, I can just keep up the good fight for awesome teeth for me and my family.
There has been a recent study presented at the American Heart Association conference this past week. The Swedish study suggests that the type of gum disease in patients may be associated with different types of cardiovascular disease such as heart attack, congestive heart failure and stroke in different ways and to different degrees. While scientists and medical professionals continue to explore the link between the health of your mouth and the health of your body, as a cause-and-effect relationship has not been established, it may make you think twice about your oral hygiene and add another reason to why it's important that we take care of our mouths and engage in a full oral care routine. You can read more
HERE
and find some other interesting information.
I urge all my fellow readers to keep up with dental hygiene for your family. I think of myself proof that even with problems with your teeth you can fight to keep them healthy, even when genetics/family history is against you! My BEST friend in the WHOLE WORLD, lived with me for a long time after high school, he used to make fun of my dental procedures, as he stated my 10 minute ritual 3 times a day. 10 minutes is a little excessive, however, I do spend a lot of time trying to keep my teeth as healthy as possible.
Check out
Listerine.com
for more information on products and you can find savings too! Then head over to
Listerinekids.com
for more information on children's dental health, plus have the kids play a super fun game
Mission Magnetizer
!
**Disclosure: I was provided a "Oral Care Challenge" Kit to facilitate this post. No other compensation was received. All opinions are my own.