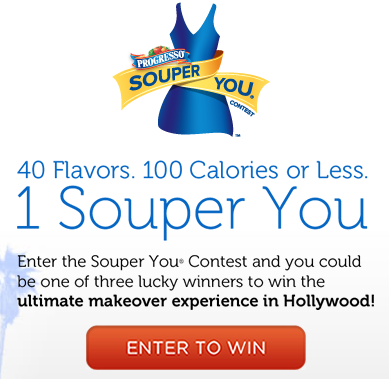 I wanted to remind everyone that the entry phase of the contest closes on February 22, 2012. Also, at the bottom of the information is a link to a coupon for $1.25 off of 4 cans of Progresso® soups!
o This year, the Souper You® Contest will provide three lucky winners with an ultimate makeover experience in Hollywood; this includes a trip for 2 to Los Angeles, California where the winner will receive a head-to-toe makeover including hair and makeup, guided shopping spree with a $1,000 fashion retailer gift card, $1,000 spending money and 2 tickets to this season´s live finale of NBC´s The Biggest Loser
o Progresso is asking fans to visit www.SouperYou.com and submit their photo with a brief essay about why they love Progresso soups and why they deserve a makeover, by no later than February 22nd
o Fans can check back on March 12th for the announcement of the top ten finalists, and to vote for their favorite finalist until March 25th
o In addition, visit
http://bit.ly/ProgressoCoup
to download a printable coupon for $1.25 off the purchase of four (4) cans of Progresso Soup today, and feel free to share with your blog readers so they can take advantage of the savings as well
o Also, tune into The Biggest Loser on NBC Tuesdays at 8/7c
Follow
Progresso on Facebook
!
**Disclosure: This information was provided by Progresso through MyBlogSpark.
©2012 Reveille, LLC and NBC Studios, LLC. The Biggest Loser is a registered trademark of Reveille, LLC and NBC Studios, LLC and used under license. All rights reserved. Progresso® is a sponsor of The Biggest Loser.
General Mills Sales is the sole sponsor of the Progresso® Souper You® Contest. NBCUniversal Media, LLC is not a sponsor of the Contest and is not associated with the administration of the Contest in any way.