Ok, so who would have thought, that I LOVE hunting and fishing. I don't think I have ever discussed that with you all before! I have gotten some emails requesting some personalization, like Monday Mingle, Wordless Wednesday, so on. This kind of ties in with those. Now, granted, I have not been hunting in a long time, years actually. I still go shooting though. I never have anyone to keep the kiddos for an entire day for me to go get in touch with nature...but that doesn't stop me form keeping up with the coolest stuff!
I received this email today, that Quaker Boy Inc. is proud to announce a partnership with Mossy Oak Turkey Thugs. The best part being that a portion of the proceeds will go to the Wounded Warriors Foundation. I know, that there is that little thing bloggers post about the actual amoun tot be donated, so on so fourth...however, I have stated before, if it is something I am already purchasing, or using, sure why not, it is a nice cause.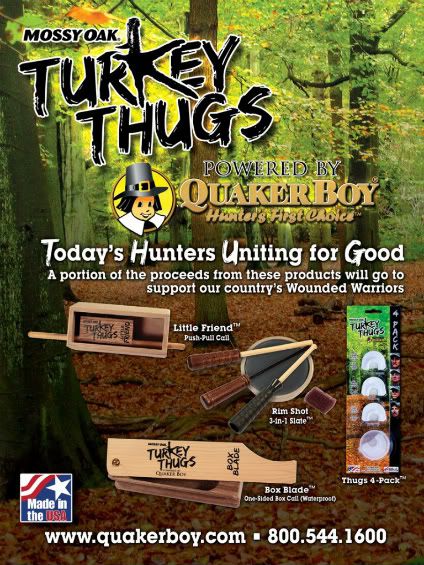 Here is the Press Release from
Quaker Boy Inc.'s Facebook Page
:
Quaker Boy Inc. is proud to announce a partnership with Mossy Oak Turkey Thugs and Mossy Oak Deer Thugs to introduce an elite line of hunting calls and accessories featuring the Thug - Today's Hunters United for Good - logo. Combined with over 50 years of industry experience, these products reflect unmatched knowledge, design and craftsmanship, all proudly made in the USA.
A portion of the sales from these series products will be donated to benefit the Outdoor Recreation Heritage Fund (ORHF)
www.pvaheritagefund.org
.). The ORHF was built to aid American service members and their families and services such organizations as the Wounded Warriors Foundation and the Paralyzed Veterans of America Foundation.
"I had the privilege of meeting with Cuz and the team down at Mossy Oak. It took about 30 seconds to get the message and purpose for the TV shows," said Chris Kirby, Quaker Boy President. "It was simple to see the ultimate good we will accomplish. I was all in!"
"Through our efforts with Quaker Boy, we can make a difference in these warriors' lives. It's been my privilege to share time afield with some of these men and women. I am humbled and honored by their presence," said Ronnie "Cuz" Strickland, Executive Vice President of Mossy Oak.
Tune in to Mossy Oak Turkey Thugs and Deer Thugs on the Pursuit Channel all year long to enjoy action packed hunting excitement and share in the greatest effort of all, to honor those who fight and sacrifice for our freedoms every day.
Visit
Mossy Oak on Facebook
!
**Disclosure: No compensation was received for this post. All opinions are my own. This post is intended for informational purposes only.