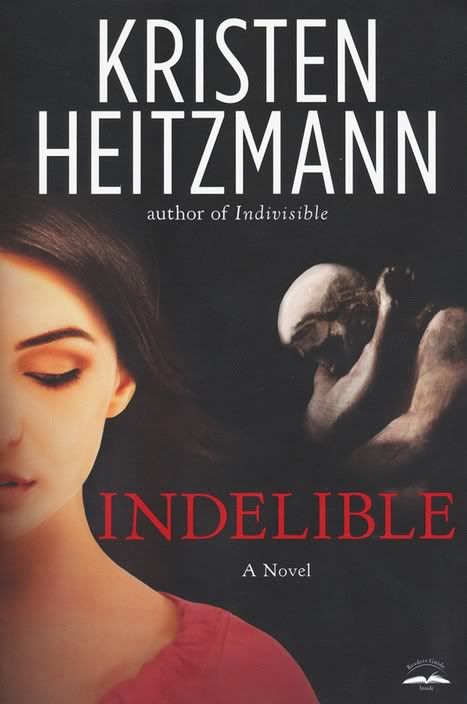 Book Information from Amazon.com:
In a clash of light and darkness, can courage prevail?
Rescuing a toddler from the jaws of a mountain lion, Trevor MacDaniel, a high-country outfi tter, sets in motion events he can't foresee. His act of bravery entwines his life with gifted sculptor Natalie Reeve—and attracts a grim admirer.
Trevor's need to guard and protect is born of tragedy, prompting his decision to become a search and rescue volunteer. Natalie's gift of sculpting comes from an unusual disability that seeks release through her creative hands. In each other they see strength and courage as they face an incomprehensible foe.
When a troubled soul views Trevor as archangel and adversary, Redford's peaceful mountain community is threatened. Together with Police Chief Jonah Westfall, Trevor presses his limits to combat the menace who targets the most helpless and innocent.
I had reviewed Indivisible by Kristen Heitzmann several months ago, and I fell in love with her writing. I was extremely excited to see another novel by her up for review. This one is just the gripping page turner I have been looking for. I love the way the story flows and almost entrances you to keep reading. I find stories of mystery and puzzles fun and engaging to read. I also love the Investigation Discovery Channel as well as all the crime shows. I also like the allure of the unknown, such as Natalie's gift of seeing into people's souls. I don't really want to go into detail about the story, besides to tell you, Ms. Heitzmann is amazing at letting you get engrossed in the character's lives and situations. To me, reading this book, I was able to almost play a movie in my head of these characters. This book is kind of disturbing, but those are the kind of books I like. I love reading something that grabs my attention, and lets my imagination run! This is one of those books.
There are a lot of characters through out the book, and they all do serve their purpose in the story. What I love about Heitzmann's writing, in any of her writing I have read, she defines the characters so well. They all have their personality, purpose, and that one thing that will make you remember them. All of these elements I use while reading to see the events in my mind as I read them. I recommend this book to any one (of adult nature) that likes the unknown, suspense, adventure, romance, well just about every genre is involved in this book. I loved Indivisible, and I recommend reading that book first, just to get a grip on how Heitzmann writes. However, I don't see it necessary to, as this book can hold it's own I believe.
**Disclosure: I received this Indelible By: Kristen Heitzmann for free from WaterBrook Multnomah Publishing Group for this review purposes. No other compensation was received. All opinions are my own.