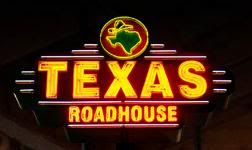 Texas Roadhouse
101 Clearview Circle
Butler, PA 16001
ph: 724-287-3777

I usually do not feel compelled to review my experiences at places, unless I have been asked by the company themselves, however, Ken and I enjoyed an AMAZING dinner at the Texas Roadhouse in the Clearview Mall tonight. Now usually, I pass on going in there because it is super busy. We walked around the mall for a bit, since it was already 8-ish, and we realized the Roadhouse did not close until 10 p.m.
It was still busy as usual, and I have eaten there before with a couple friends, but it was so busy and we has agendas, so I never really got to check out the place. We had the coolest waiter ever, his name was Curt, he was prompt, knew what he was talking about, and if there was something he did not know he checked it out for us super speedy like! Their drink menu has no prices, and they had a bunch of specials going on, a little happy hour thing, as well as 50% off their appetizers except the rib basket. He was sure to fill us in, but not the the boring this is a restaurant, and you know the routine way though.
That super tasty looking burger above, yeah, I ordered that, The Smoke House Burger. It was amazing, and I am really not a red meat lover, I would rather have chicken. Ken had an 8 oz. sirloin steak which was PERFECTLY cooked to his taste. We had ordered the Cheese Fries for an appetizer, which were so good! Then we received our salads, they were absolutely delicious! As our waiter had told us, all their dressings are made fresh daily, I had the Italian, which usually homemade dressings are usually very salty and tangy, this was EXCELLENT!
I want to mention another great thing that happened to us while we were there. Neither Ken or I eat tomatoes, now our salad had some on it, we were picking them off, and I assume he was a manager, or shift leader, saw us and wanted to get us fresh salads. I have never been as a restaurant where I was offered new food for my own mistake, as we did not know they came with them, so we did not say not to put them on there. Our food was super speedy coming from the kitchen too. As the server brought our meals, the manager came to our table and explained that the mashed potatoes Ken had ordered would be a few minutes extra, they had a small rush of people and they all ordered them as a side. He brought them out as soon as they were done, he took them around to each table waiting. I was super impressed with the service we received there tonight.
Since I was so impressed with the establishment, I took a few mental notes. While they do not handle reservations, you can get "Call Ahead Seating". This is just a way to get on a list to be taken in order of that list. This cuts down the time of wait, since they are such a busy busy place! Call (724) 287-3777 for more details. Also, I had seen a sign near the mall entrance that advertised $0.99 kid's meals on Tuesdays with the purchase of a regular adult meal, I believe anyways, please call them for more details. Our total for complimentary rolls and awesome cinnamon butter, 2 drinks, and order of cheese fries, an 8oz. Sirloin Steak dinner cooked to perfection with 2 sides, and a Smoke House Burger with one side, PLUS amazing service = $30.20! The bad part...we had so much food so I got a to-go box, THEN FORGOT IT (dang it)! The night was super I thought. So for a nice night out for me and the fiancee, it was an awesome idea. Thanks to the staff at the Texas Roadhouse for the amazing dinner and personable staff!
**Disclosure: This post is intended for informational purposes only. No compensation or products were received for this post. All opinions are my own.