**Disclosure: This post is for informational purposes only. No compensation was received for this post. All opinions are my own.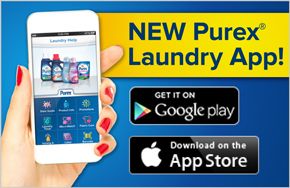 Introducing the NEW Purex Laundry Help App!
The Purex® Laundry Help App is the most comprehensive laundry app on the planet (and it is free!). This app is the go-to guide for all key laundry care information and support at the touch of a button. The application features include:
Screen shot from my phone.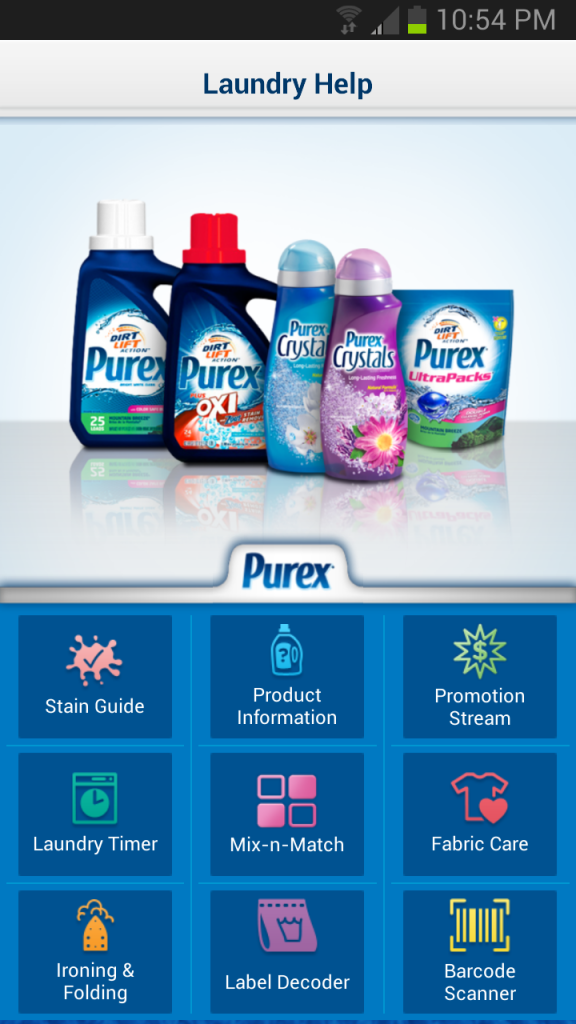 Laundry features
• Stain Guide
• Label Decoder
• Fabric Care
• Ironing & Folding
• Laundry Timer
Additional features
• Promotions
• Mix-n-Match
• Product Info
• Barcode Scanner
Check it out and leave a rating! I downloaded it to check it out on my Galaxy S3 and I love it!! I believe my favorite features and the stain guide and the product information section. The stain guide is really awesome, you can choose a category for which the stain may have came from (food,arts, etc...), then choose what the stain is (ink, glue, etc...), and then the material you are trying to remove the stain from (cotton, nylon, etc...). Easy peasy!
Screen shot from my phone.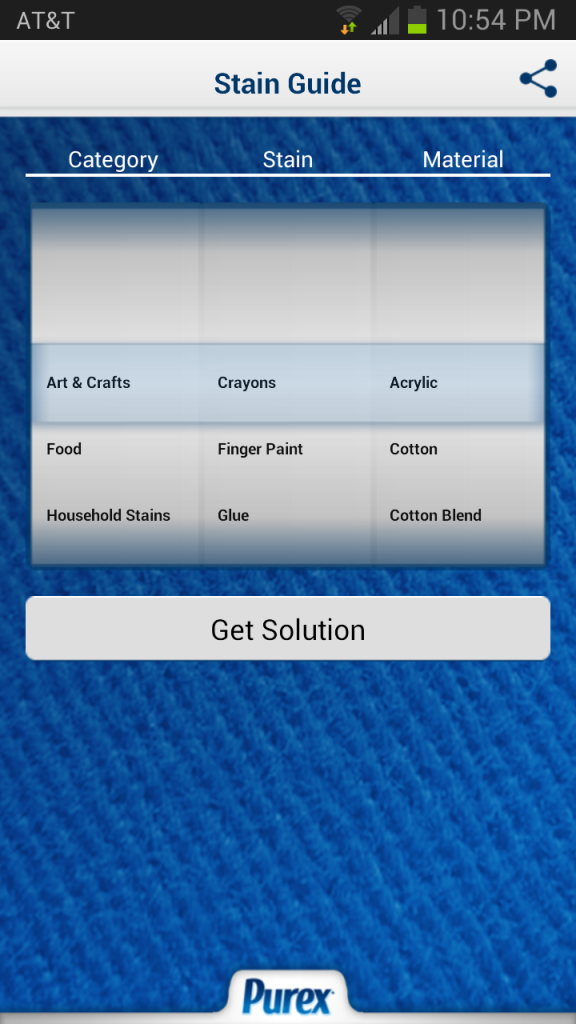 The product information guide lists all the current Purex products available and their special uses, what scents they come in, where to find some of the products, and so on. I like this feature so I can use the bar code scanner to check out new products, or to see if there is other scents, or non scented available!
Screen shot from my phone.

I have become addicted to the min -n- match game on there too. You know, trying to kill time while that pesky last spin cycle finishes so you don't forget to put the load in the dryer, yep I will hit that on and just wait until it is done. Normally I will just say to myself "Well, I will finish this and come back and get it..." then I forget about it and then have to rewash it...
Another awesome feature of this app: PROMOTION STREAM! It tells you the active Purex Promotions. I am sure the App Sweepstakes is not listed as it just started yesterday, I am sure it will show up in the next day or so!
Screen shot from my phone.

You can download the app from the
App Store
or get it from the
Google Play Store
!

To celebrate the new Purex Laundry Help App, Purex is giving you a chance to win an iPad mini. Download the app and enter today for your chance at the grand prize! Be one of three winners. Head over and
ENTER
!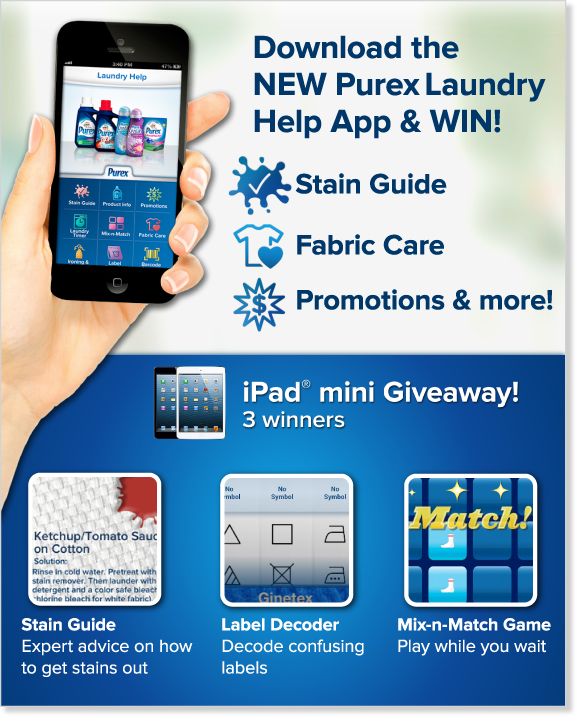 The
Purex Laundry Help Sweepstakes
will begin at 1:30:00 p.m. PST on September 3, 2013 and end at 3:00:00 p.m. PST on November 5, 2013. You can enter this Sweepstakes DAILY!!! There will be one (3) Grand Prize winners that will receive an iPad Mini 16GB with WiFi (ARV $329). Please see FULL
Terms & Conditions
for more information.