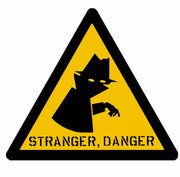 I have mentioned a few times that we had
2 foster children
living with us, that is why I have been so behind on posting and doing giveaways. The little boy, Evan, has already returned to his father, a few weeks ago, but the little girl is here to stay for a while. She has a lot of problems, which I have discussed a little bit. She never had anyone to teach her things, her colors & shapes, the ABCs, daily living routines, etc... Now, both kiddos are my fiancee's sister's children and she was in some trouble, but is now trying to get her life straight. I couldn't let these guys go out to regular foster homes, everything that happened to them wan't their fault, they are the ones who paid for the mistakes of adults. I am happy that his sister is finally getting her life together and trying desperately to get her daughter back. She and the little boy's father are back together and being a mom and dad like they should be. However, little girl has a different father and he is, ummmm, forget that, he is not around... She has been taken into full custody of CYS, and placed with us. We have been state
certified as a foster home
and trying to get her on track.
Now, like I said at
therapy with her
the other day, she has come so far, and I am so happy that I could give that to her, but there are still some important things missing. Such as, yesterday, my daughter had speech therapy. We took her there she had her session, we always head down the street if they were good, and get a doughnut or cookie with an orange pop to share. Then they have that while we head about 15 minutes over to Nevaeh's school. First, little girl dumped the remainder of the 20 oz. bottle of orange pop all over the back seat and never said anything...found out because I sat the mail on the seat later in the day and it of course all turned orange and was sticky! Before I realized about the pop, we had run into the Dollar General on the way home for me to get some conditioner for my hair (I am out of
Parnevu
at the moment and have to wait for my package!). We ran in, grabbed some, and headed back out to the car since I was running late and she would miss her school bus. I let her hand go, just to grab my keys out of my purse, turned and SHE WAS GONE - I could not see her anywhere, seriously, I was screaming for her, running up and down the sidewalk in front of the store... A little old man gets out of his car and says "Is this little girl yours?" I look in his car (which is nothing like my car at all), and she is sitting in his back seat.
She seriously ran to a strangers car and got in with out prompting. Without any indication she should get into that car. Now, I have been telling the foster care agency that she has no stranger danger fear, no personal boundaries or anything, so she is attending therapy for that, no one ever taught her. I try my best, but this was the most frightening thing I ever experienced. She is 6, we were standing 2 cars away from my car on a sidewalk, in front of a store where there was no road or anything since it is set back off the main road, (The new store on Rt. 8, Butler, PA), I never would have thought that I could not let her hand go for 3 seconds while I grabbed my keys from the top of my purse. I was so scared. My kids would never - EVER think of getting into a strange car. She had not one second thought. I am in no way a bad mother a neglectful mother, but this was totally terrible and should have never happened, I will admit...but what was I to do, it happened, I talked to her, explained to her the danger, what if that man was not a nice old man, what if he was a mean man who took you away and hurt you... Nothing about this is sinking in. She has no fear of strangers, and I honestly believe that since she was always told, hey you are gonna stay here it will be ok, she is immune to fear of strangers.
So later when I discovered the pop on the back seat, I was about to rip my hair out. Good thing I got that conditioner, after I put her on her school bus I had 2.5 hours to do whatever, and blogging was the plan. I wanted to blog about Rare Disease day, and Harlem Globe Trotters coming to Pittsburgh in April, but I had to relax, BUBBLE BATH YES PLEASE!
So, I had finally experienced a fear I have never felt. What would I have done had that man drove off with her. How do you call a foster care agency and say by the way I lost my foster child? I am so upset with myself over this incident, but honestly, 3-5 seconds at the most, and she took off like a greyhound at the races, straight to a stranger's car! Any comments, encouragement, or tips on how to make her understand stranger danger, I am not sure I am reaching her. Her next individual therapy is Tuesday, so I will definitely bring this incident up! Thanks for reading and giving me any thoughts you might have!
**Disclosure: This post is for informational purposes only. No compensation was received for this post. All opinions are my own.